Intimate Details Of A Near $2,000,000 A Year Business Revealed For The First Time At Closed Door 'Outsource Retreat'
Yes, Actual Niches & Websites Shown By An Otherwise Private Outsourcing Wizard
I think it was the atmosphere. There I was holding an intimate, closed door retreat in the Philippines... where a handful of business owners were invited... to discover how to outsource their entire online business.
I don't know what came over me during this "outsourcing" retreat. Whatever it was...
I revealed sensitive and intimate outsourcing methods that I, John Jonas, use to run a 7 figure a year business on near auto-pilot.
I showed sites. My sites. Actual niches. Real world stuff. Stuff I normally don't show to the public.
I showed new techniques and methods that I've never pulled back the curtain on before.
You missed it. But not entirely...
If you were in Boracay, Philippines (AKA the Pearl of the Pacific) on March 19th, 20th and 21st, 2010 I would've shared these secrets with you in person.
That's when I held my now world-famous Outsource Retreat.
It was a once in a lifetime seminar about outsourcing to the Philippines. You would've had to pony up $497 just to get a ticket to the seminar, and much more for the flight and resort stay.
The Good News...
We captured it all on professional film.
Now for a limited time you can view those recordings online... For a lot less than the cost of the actual seminar... And for less than you think. More on that in a moment.
If You Don't Know Who John Jonas Is...
He's The Guy Who Pays FULL-TIME Workers $250 to $600 A Month To Build Him A Seven Figure A Year Business!
Why doesn't your business run like this? It soon will. Once you discover what I have to share with you.
Want to know how to get the #1 ranking in Google for one of the most competitive terms... In one of the most competitive markets.... On the planet?
Answer: I don't know how!
What I do know how to do is hire workers on the cheap... For as little as $2.50 an hour... To do it FOR me. For example, I have a site that my team built for me, from soup to nuts, that does over $20,000 a month.
It does this because my workers did my search engine optimization for me for this competitive term, and now I just sit back and make sure the money keeps coming in.
That's my job. :)
I'm not a marketer...
I'm the CEO of my Internet business. You need to adopt this CEO attitude as well. It's liberating. It's lucrative. It's easier than you think.
Here's what I want you to do. Once you get your hands on these 6 videos mere minutes from now... I want you to immediately click the play button on the first video.
Fast forward it to 26 minutes and 15 seconds. Watch just for two minutes. Then pause the video and ask yourself if you already didn't get your money's worth from your investment today.
Next skip to 1 hour, 38 minutes and 50 seconds. There you'll discover the reason why most people mess up outsourcing to the Philippines.
The Secret - Using The Right
Geographical Regions!
Just listen for 4 minutes and 50 seconds as I explain the exact geographic regions you should hire your outsource workers from - this can make or break you.
The cost of living in certain areas of the Philippines is much higher than others. So if you pick the wrong region, you'll end up paying three or four times as much for a worker as you should.
What Else Will You Discover On Just The First Video Of This Outsourcing Retreat Seminar?
Think you have to build a list? Wrong! I show you how I have outsourcers build 5 figure a month websites that don't capture any leads! [26:15]
The breakdown of online business models - and the EXACT one to pick that is most easy to outsource and start making immediate money from! [14:55]
The easiest way to have your outsourced workers create your websites for you. (Will save you countless hours and hundreds of even thousands of dollars... You just sit back and be amazed at how quick and cheap they can bang out websites for you.) [36:25]
How Jing Changes EVERYTHING [41:56]
The biggest problem with working with Filipinos - only people like me who have done this for years know about this problem, and can show you the instant solution. [1:20:40]
The exact first communication you must make with your Filipino outsource workers... (Laugh at your friends who struggle with outsourcing to the Philippines because every single one of them messes this up.) [1:43:50]
We're just getting warmed up. After you go through the first video, you'll already be an outsourcing whiz.
Now It's Time To Take
It To The Next Level...
Immediately move on to the 2nd video. Fast forward to 34 minutes, 35 seconds.
This is where you'll discover how to pay the people you hire... Never have to struggle with what to pay people again.
Most mess this up and overpay their outsourcing workers by two or three times the amount they should. Not only does that COST you money, it's actually LESS likely to get you a loyal, hardworking worker. (Strange but true.)
The money I will save you and the ease of knowing exactly how much to pay the people you hire will be a godsend for you. And you'll discover all this just from watching only 7 minutes of the second DVD.
That's not all you'll discover, though... While watching this DVD you'll also find out:
Exactly how much you need to be involved in your business. (Most people who outsource are still WAY too involved in their business... This will fix that.) [8:45]
Live examples of how I find and hire people from the Philippines.
Tips & Tricks for hiring and outsourcing that I'm usually tight-lipped about (including things I have never previously discussed in public before). [42:00]
Overview of what's inside ReplaceMyself.com (You'd be surprised at what you don't know.) [54:20]
Live question and answer session from the attendees. [1:01:30]
If you just stopped after watching the first 2 videos, you'd already be an outsourcing black belt and capable of going out and building 6 figure businesses by accident. Think of the 3rd video as dessert.
Push play on it. If you do nothing else, fast forward to 12 minutes and 30 seconds.
This Is Where You Discover Exactly
How To Pick An Outsourceable Market
It'd be hard to describe the value you'll get from this, because it's so powerful. Words do it little justice. You'll finally know once and for all, at the drop of a hat, which markets to enter.
Hint: all these markets are designed to be dominated solely by your outsourced workers doing the work for you.
Imagine this: you wake up... Go and pick a market for that day. Then hand it off to your outsourced workers and they build you another simple business that brings you in money. How often would you do this? Now you can do it whenever you want.
Now go back to the beginning of the video and watch the rest of it. That's when you'll discover...
If I were starting from scratch, this is exactly what I'd do first to replace my million dollar plus a year business. [9:20]
The "______ ______" method - the best way to make money online. [36:00]
How to have your outsourcers get your websites ranked high in Google to pull massive hands-off traffic to your sites. [38:40]
The website conversion secret - GET RID OF WIDGETS! [46:13]
How to tap into the 3 kinds of searchers on the Internet to attract the lion's share of buyers in that market to your websites. [33:40]
Why I don't promote ClickBank products. [44:20]
Live question and answer session from the attendees [50:00]
The 4th Video Shows You...
How To Get Billions Of Impressions Using Google AdWords For Pennies
No that's not a misprint. It's Billion with a B!
I brought in Joel Peterson to show you this secret strategy. What is it? How to get your outsourcing team to make your money by using Google AdWords to get traffic for around 3 cents a click.
Or it can be even cheaper with CPM.
You'll discover everything you need to know about this Google AdWords trade secret. Even better, you'll discover how to completely outsource the whole thing. Need I say more?
After you pick your jaw up from the floor from watching the 4th video, now watch the 5th video. Skip to 10 minutes in.
This is where I break down where my money really comes from. It's review sites. Ugly review sites. Simple review sites that take my team minutes to set up. But oh man do they bring in money.
This is not theory. You'll find that out when you jump to 52 minutes and 10 seconds where I show you a real example of one of these sites.
Then go to 1 hour, 12 minutes and 5 seconds and see even more examples of actual sites I have on the net that are making me money on autopilot. All outsourced.
You'll also discover...
How to train your Filipinos to target the right keywords for your review sites. [13:30]
A two word phrase you can use in any market that will bring you in the BEST buyers. (Plus it's easy to get ranked at the top when you use this...) [19:00]
How to have your workers do linking and link building for you. [26:05]
Why you should never incentivize your Filipino workers. [1:07:40]
How and when to use pen names. [1:17:55]
Ah, now for the final, 6th video. This is the cherry on top.
The Secret To Never-Ending Growth...
If you do nothing else, fast forward to 47 minutes and 25 seconds in.
This is the glue that holds it all together. Here's where I show you how I maintain everything going on in my business without it being a hassle.
Yes, your money-making businesses will have a lot of moving parts, since your outsourced workers are doing so much for you. Your growth and income can be never ending and as much as you want it to be.
These are the secrets to being able to maintain it all without any stress, overwhelm or hassle. Nice.
Also on this final video you'll find out:
Why I would do local business marketing. [1:00:44]
When training should be an interactive process. [10:35]
More ways you can outsource Filipino workers to bring in traffic to your site. [22:51]
An exact plan you can use if you're just starting out with outsourcing or have never done it before. [50:00]
The Final Q & A session with attendees.
Why You Can Get It All For A Bargain...
I'm introducing this to you... For just $67 as a special offer.
Here's why it's a deal: the money you'll save by hiring the RIGHT outsourced worker the FIRST time will more than cover your investment today.
Plus, when you put that outsourcer to work for you, you should be able to bring in hundreds or even thousands of times the profit from your investment today.
Plus, Comes With A "10 Minute",
100% Money Back Guarantee!
Do this: Randomly pick one of the six videos you'll get immediate access to. Skip to anywhere in the middle of that video and watch just 10 minutes of it.
If after ten minutes, you don't feel like you've already gotten your money's worth, just send an email to support@replacemyself.com.
We'll refund every penny of your purchase.
Better still: take a full 30 days to go through it, use it and profit from it.
If during those 30 days for any reason - Or no reason at all - You're unsatisfied, just let me know - And again you'll get every penny of your purchase returned to you... No questions asked.
Yes John, I'm In
John, I'm serious about making outsourcing a major part of my lifestyle.
I know that my business success is important enough to invest in, especially when it's a great deal like this.
I value my time and would rather grow my business through outsourcing so I can spend my time with my family and doing family things.
I know I can get my hands on this wonderful package today risk-free, since I'm protected by a 30 day money back guarantee.
I understand I will get immediate access to the streaming online videos once I click the Add to Cart button below and fill out the acceptance form.
Success Stories...
Achieved More In Three Weeks Than I Have In Two Years

Hello John

I have achieved more in three weeks than I have in two years, and it is all due to you, Dan and the replacemyself program... The support I am receiving from Dan is first class and I have three employees now... My blogs are up and now with Dan's help will soon to adding some affiliate links.

Regards,
Jennifer Durham
"This has already put an extra $35,000 in profit into my bank account..."

- Kirt Christensen
Spokane Valley, Washington
I Have Nine Filipinos Working For Me, Each In Their Niche, And They Are Wonderful.

John,

I love your program. I discovered that 80 minute audio in November '09 and immediately signed up for your program that night. At the end of January I was able to quit my full time day job.

February '10 was an amazing month in my business. I now had more freedom than I have had in years, and I had a working system that was making me a decent living. I have nine Filipinos working for me, each in their niche, and they are wonderful. This is incredible!

I really owe you a huge thanks for everything, and I have recently been enjoying your 'Oursourcing in the Philippines' videos.

Thanks,
Nate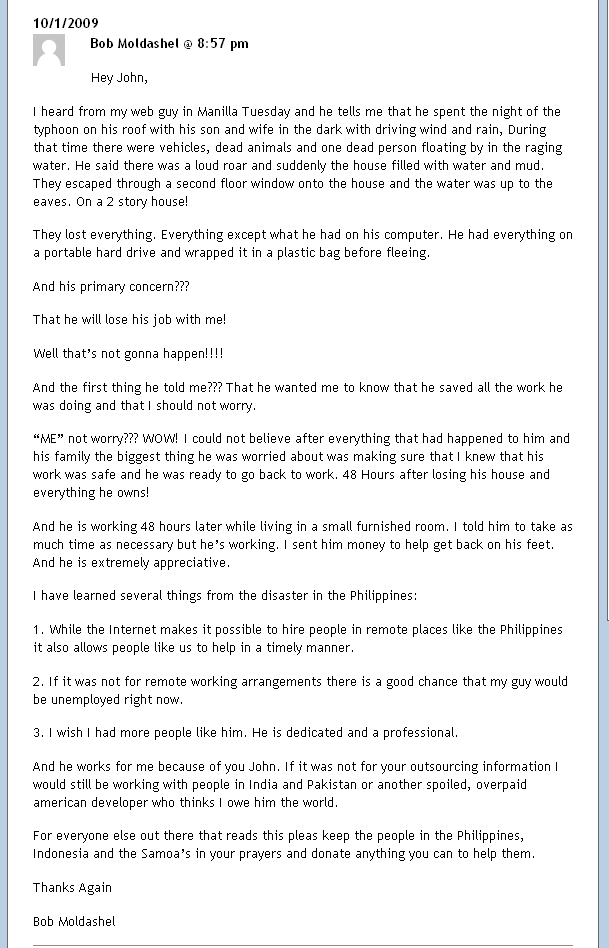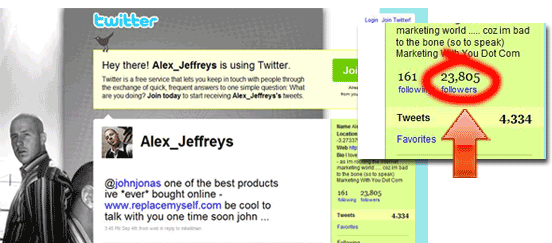 I Tried Before To Hire Internationally
On My Own And Had Poor Results

Your pre-found employees in the Philippines are the best! I tried before to hire internationally on my own and had poor results.

The guy you found for me absolutely rocks. Thank you so much, John Jonas and team, for putting together
this invaluable resource!

Dave Crenshaw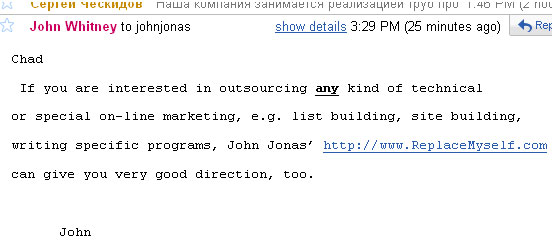 I Am Paying Them $2.50 US An Hour As A Team

Hello John,

I am loving the system, and I currently have a team of 4 fantastic guys in the Philippines handling all of my Internet marketing.

I am paying them $2.50 US an hour as a team. Based on the task I assign, they will decide who among them is best equipped to handle it.

They speak terrific English, they love working as a part of my team, and they flat out get the job done - usually beyond my expectations.

They're very creative and bring their own unique ideas to the table - this has helped me a great deal.

Thank you!

David Anderson
Thank You For Opening My Eyes

I just wanted to send you a quick email to say that I really enjoyed your presentation at "The Magic Bullet Seminar" in San Diego last weekend.

I've spent far too much time personally handling the daily, boring, time-consuming tasks needed to run my business that I haven't been able to take my business to the "next level" for quite some time now.

Until I saw your presentation at the seminar, I didn't really realize what was possible with outsourcing. However, after your presentation, it was painfully clear that I needed help in my business - and FAST!

So, the first thing I did when I got home was to listen to your "outsourcing training call" several times to really understand what I needed to do to start outsourcing.

Yesterday, I joined replacemyself.com and have already started contacting potential candidates from bestjobs.ph. In fact, I sent emails to 15 people, and have already received replies from 8 of them... Within just a few hours!

I'm currently narrowing my list to a few "stand-outs" and hope to have someone hired full-time in the next 2-3 days. I'll keep you posted as to how it goes.

Anyway, I just wanted to say THANK YOU for opening my eyes and showing me just how easy (and affordable) it is to get the help I needed in my business!

To OUR Success,

Austin Fenhaus
Truly Helped Me Grow My Business More Quickly

Thank you for the great information, ReplaceMyself.com truly helped me grow my business more quickly, and I think EVERYONE needs to hear what John has to say about outsourcing!

There's no way I'd be where I am without the information John gave me on how to find, hire, and pay outsourcers.

Jason DeVelvis
He's Also Changing The Way I Do Business

John Jonas not only blew me away with his ideas about outsourcing but he's also changing the way I do business.

I can't possibly tell you how liberated you'll feel once you really plug into John's private site. Several of my customers have ALREADY got people on board within 24 hours of getting John's system.

I'm almost to hire a php programmer/graphic designer for $200 USD/month. How awesome is that? Thanks John!

Marlon Sanders
marlonsanders.com

Since Then My Life Has Become Even More Easy

I went to a seminar back in July and everyone was talking about outsourcing. I already had a team of 16 based in India and they were great, but the speakers at the seminar were all talking about hiring people from the Philippines. I immediately wanted to find out more and when I got home I started researching and I found your website.

I had a look into it and joined without hesitation. I have now hired 2 Filipino staff and they are fantastic. One to do graphic design and flash work and another to do SEO, link building and article submission.

Since then my life has become even more easy and I want to thank you for providing such an awesome and easy way to find quality staff.

Kind regards
Ben Hulme
http://www.StartWebDesigning.com
Awesome, Thanks!

The absolute best part of the membership was the Filipino job board in which I found FANTASTIC people.

Since then, I've been so busy putting things together and keeping them busy, I haven't had time to really dig into your trainings even.

Many thanks,
Julie Fortin
Normally I would feel very overwhelmed

I couldn't sleep a wink last. I was soooo excited about replacemyself.com, I was thinking about it all night. I have been "trying" to do Internet market for a long time. Because it is so labor intense I have never had the time to do it properly, so I have not made any "real" money.

Now for the first time, I feel that I can make some real money, because I will have dependable help who I can trust and more importantly, I can afford.

Normally I would feel very overwhelmed by the thought of hiring some one from the Philippines, but with your help, guidance and support, I feel confident that I can do this.

I can"t wait to get started!! My first project for them is to set up an affiliate site for "replacemyself". I think every Internet marketer should know about this.

Thank you so much
Charlotte El-Amin
Wanted to share this...

Hi John and Dan,

I just pulled the trigger on a 2nd full time hire tonight. I hired my first guy before the holidays, and he will be trained in a bunch of stuff over time, but to start out he'll build mini-nets, do article submission, build links, etc. His English is good enough to communicate with me, but not to write content.

So ... I decided to look for an AWESOME content writer. Someone who has perfect English and I don't care if he/she has any other skills aside from spelling, grammar, sentence structure and the ability to write interesting stuff.

I found her on OnlineJobs.ph last night. She emailed me back right away with a writing sample that blew me away. My wife said, "wow, I can't even write as well as her".

So of course, I'm thinking "I wonder if she had that edited professionally..." Time to set up a Skype text chat.

We did a 45 min text chat tonight. She made maybe 2-3 typos compared to my 8-10, and I didn't see a single grammar mistake. I thought I was conversing with an American. Honestly.

$350 per month, settled... hired... I'm really happy.

WOW.

I just had to share that with you both.

Chris Thompson
TalkingToToddlers.com
Tell John he is a GENIUS

Hi John,

Your work has completely changed the way I work. I can't believe that you're still not charging for the interview you're giving away on your site. It is one of the most valuable resources I've found online (and I've gone through a lot of marketing stuff).

Thanks again for the great ideas, John. Have a great weekend!

Eric Haaranen